"NEW Important Update"
PLEASE USE THE SD CARD THAT CAME WITH YOUR G SERIES MONITOR
If lost call Insight 905-871-0733
DO NOT TRY TO OPEN ANY G Series UPDATE FILE ON PC, MAC OR ANYTHING ELSE
THIS UPDATE IS SOFTWARE FOR YOUR G Series ONLY
Do Not Save Flight Data Excel files back on to the SD Card - Save them to your computer!
Take me first to a more detailed - Software Installation Instructions - CLICK HERE
---
If you are ready, read instructions below first, then update your G Series.
1- Download and save the new software file onto your computer (Remember where it is and copy file).
2- Power off avionics master, remove the SD card from your G2, G3, G4 or G9 engine monitor and connect your Insight SD card via card reader or slot reader to your computer.
3- On the SD Card browse to the folder called G3UPDATE on G2-3 SD Cards, G4UPDATE folder on all G4 SD Cards and G9UPDATE folder on G9 SD Cards.
4- Copy or paste the new software file into the G3UPDATE folder on G2-3 SD Cards, G4UPDATE folder on all G4 SD Cards and G9UPDATE folder on G9 SD Cards.
5- Safely remove SD card from the computer.
6- With the avionics master still off, insert the SD card in your G2, 3, 4 or G9.
7- Turn avionics master back on, your G Series engine monitor's software will update from its current version number to a new greater version number.
8- Your engine monitor will then reboot.
---
To re-check software version number on your G Series engine monitor, reboot your engine monitor and during the reboot you will see "HOLD BUTTON TO PAUSE SCREEN" at the bottom of the screen, push and hold SEL knob to freeze splash screen so you can read your G Series new updated information.
---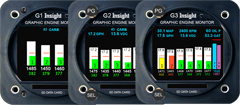 ---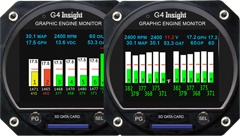 G4
Single -
G4
Twin Software File Name: G4UPDATE.205
0
1/23/2018

Some of the changes in going from G4 version 182, 202, 203, 204 and 205...
• Previously there was no standard color scheme in the configuration screens. Now the selected line is yellow and the inactive lines are white. The ambiguity of YES/NO in red has been removed by displaying only the word YES or the word NO, not both at once, when saving. When there is a choice of several items the selected item is displayed in green. Exactly one item is always selected. For example if the choices of temperature units are Celsius or Fahrenheit then either Fahrenheit or Celsius will be selected.
• The FUEL TOTALIZATION screen has been improved and is even easier to use. This change allows the pilot to see this screen before entering fuel on board. Also setting initial fuel can be checked and corrected in flight. Previously the pilot had to enter the amount of fuel onboard before he could view the fuel totalization page. Now both the fuel totalization page and the fuel setup page are accessible at any time.
• The G4 single can now be configured to totalize fuel by left/right tank. Additional hardware (switch) required.
• The G4 twin clears the lean boxes one engine at a time.
• G4 can now display and log OAT in either Celsius or Fahrenheit independent of the choice for EGT/CHT/TIT/OIL/CARB
• Changed the upper limit of manifold pressure at maximum horsepower from 45.0 to 49.0 in Hg to accommodate 48 inches of mercury for TIO540-J2DB.
• Made OAT readings smoother (more readable) by using a 16-sample moving average.
• Made Oil pressure readings smoother (more readable) by using a 16-sample moving average.
• On TAS screen
1. Renamed 'TAT' to 'SAT' (Static Air Temperature)
2. Renamed 'ALT' to 'PALT' (Pressure Altitude)
3. Renamed 'OAT' to 'G4 OAT' (Outside Air Temperature measured by the G4)
4. Added 'TAT' (Total Air Temperature)
• The G4 can have simultaneous communication with GPS, TAS, and Slave.
TAS to G4, G4 to GPS, G4 master to G4 slave.
• Valid CHT REDLINES are 450, 460, 475, 500, 525, 550.
• Valid TIT REDLINES are 1650, 1725, 1750.
Some of the changes in going from version 159 to 182 on the G4 was:

Two independent K-factors, one for each engine on the G4 twin
Increased maximum fuel capacity from 240 gallons to 400 gallons
Corrected a potential display issue
Added support for new LCD displays
Provided 1750 degree TIT redline for Malibu
Provided capability of two G4s to act as master/slave
Time/date for data logging now valid to the year 2067
Streamlined initial setup of new instrument in the factory
---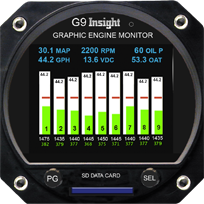 NEW - G9
Radial Engine Software File Name:
G9UPDATE.133
12/15/2016
---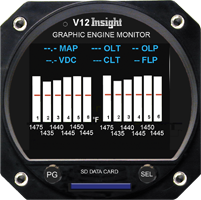 V12
Merlin
Engine Software File Name:
V12
UPDATE.COMING SOON