GPS Interface
Set-up GARMIN 400/500 For Fuel Display:
1) To start set up mode.
Press and hold "ENT" button and apply power.
Hold "ENT" until the display lights up.
Release "ENT" button, wait until display says OK
Press "ENT" button once.

2) Turn inner rotary knob until "Main RS-232 Config" appears.

3) Use cursor and "ENT" button to select.
4) Press curser button to select input for channel 1
INPUT OUTPUT
Channel 1 Shadin - fadc Avtn no alt
5) Turn power off.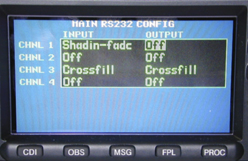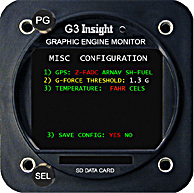 Or watch tech video of how to set GPS interface in G Series 3/4
---
Set-up Bendix/King
The G3/G4 can be configured to transmit fuel information to a GPS using any one of the following three formats;
SHADIN Z aka FADC - This 137-byte message includes two fuel information items; fuel flow rate and fuel used.
ARNAV/EI - This 13-byte message includes two fuel information items; fuel flow rate and fuel remaining.
SHADIN FUEL - This 55-byte message includes three fuel information items; fuel flow rate, fuel used, and fuel remaining.
Here's a table that summarizes the above information.
| | | | |
| --- | --- | --- | --- |
| | Fuel flow rate | Fuel used | Fuel remaining |
| SHADIN Z / FADC | Y | Y | N |
| ARNAV / EI | Y | N | Y |
| SHADIN FUEL | Y | Y | Y |
Some GPSs support all of the above three protocols but this does not seem to be the case for the KLN 94.
According to Appendix A on page 91 of the Bendix/King KLN 94 installation manual the RS-232 formats that the KLN 94 supports are
Format A - 13 BYTE ASCII STRING
Format B - 52 BYTE ASCII STRING
Format C - 108 BYTE ASCII STRING
Format D - 121 BYTE ASCII STRING
Because the KLN manual uses the terms Format A, B, C, and D it is not immediately apparent which one to use. The ARNAV / EI fuel flow message is 13 bytes so this is probably what is being referred to as Format A above. The length of none of the remaining three match. I checked the detailed descriptions and found that Format A is, in fact, the same as ARNAV/EI so Format A is probably what you will need on the KLN side.
For the communication to be successful you must setup the transmitter (G3 or G4) and the receiver (KLN 94) to use the same protocol. To get to the G3/G4 configuration screen press and hold the PG (top on G3, left on G4) button and then turn on the avionics power. This will take you to the REGISTRATION CONFIG screen. Turn the PG knob counter clockwise to reach the MISC CONFIGURATION screen. Press the SEL (bottom on G3, right on G4) button to select line one. Turn the SEL knob to select SHADIN Z / FADC, or ARNAV, or SHADIN FUEL. Select none of these to turn off the RS-232 transmission to the GPS.
For detailed instructions on how to configure your KLN 94 and to see if it is actually receiving data you will have to refer to your KLN 94 Installation Manual. I have not had any direct contact with someone interfacing the G4 with the KLN94 so please let me know if you are successful or not.